After more than ten years of cultivation, Sany Renewable Energy continues to improve its technical strength, product competitiveness, and market share year by year, and it is moving towards a leading wind power company in China and the world.
Today's Sany Renewable Energy is full of vigor and momentum. Standing at a new crossroads and facing new development opportunities, Sany Renewable Energy will vigorously promote digital transformation in the future, implement oversee strategies, and gather global talents to jointly implement the "Zero Carbon Dream" and become the "Sany Heavy Industry" in China's wind power industry.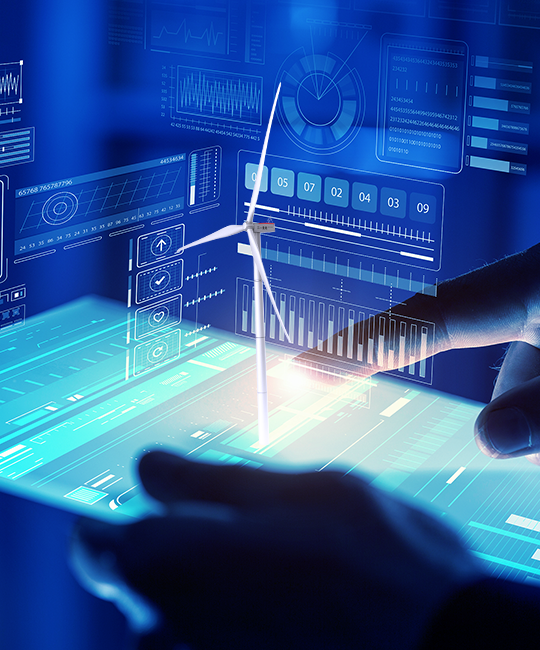 Digital Sany, intelligence leads the future. Sany Renewable Energy actively promotes the digital transformation and upgrade strategy, establishes a digital professional organization, plans from the top development needs, and vigorously develops the digital capabilities of R&D, manufacturing, marketing, procurement, service, finance, human resources, etc., to form new project-based production and operation mode from order to delivery. The digital capability of Sany Renewable Energy will cover the entire life of wind power products, and further implement the "two-wheel strategy" of digitalization of delivery and operation and digitalization of services, driving Sany to transform into service-oriented manufacturing, enhancing its intelligent decision-making capabilities, and promoting value enhancement throughout the life cycle.
Focusing on integrated, automated, and flexible production and manufacturing, with the goal of building final assembly, generator, and blade Becaon factories, the digital link of R&D, marketing, procurement, and production will be fully connected, and an agile delivery platform will be built. With digital twins, machine learning, 5G and other advanced intelligent manufacturing technologies, focusing on system construction in the directions of digital operations, supply chain control towers, intelligent scheduling and execution, data insights, etc., to gradually realize the digitalization of R&D, intelligent production and lean management, form an intelligent manufacturing and green manufacturing model based on an integrated digital platform to enhance the company's efficient and high-quality delivery capabilities.
Sany Renewable Energy will take customer service as the main object, make full use of digital technologies such as the Internet of Things, big data analysis, and intelligent algorithms to estab-lish a wisdom wind farm operation service system for achieving transparency and agility in the entire process of wind farm transportation, installation, commissioning, and operation and maintenance management, focus on building intelligent logistics monitoring, wind turbine visual monitoring and warning, turbine status detection and diagnosis, service expert knowledge base etc., and create "four-in-one" digital service model covering components, wind turbines, and online monitoring, dynamic early warning system, remote diagnosis, and intelligent operation and maintenance of wind farms, and ultimately achieve a perfect end-to-end service experience for all customers.

Globalization Strategy
Base in China and expand the world markets. Sany Renewable Energy is one of the pioneers in promoting China's wind power to global market. In June 2013, Sany Renewable Energy won the bid for the Ethiopian ADAMA wind power project. 102 units wind turbines set a record for the largest export order of Chinese wind turbines at that time. Sany Renewable Energy will actively implement globalization strategy and promote China's wind power to the world Under the guidance of the national "One Belt, One Road" policy, Sany Renewable Energy will focus on the layout of India, Vietnam, Uzbekistan and other countries rely on the layout of Sany' s overseas system of globalization, with abundant resource of power generation enterprises, actively explore and occupy overseas markets, and strive to build a world-class brand with a worldwide reputation.
Talent Strategy
Sany Renewable Energy implements the strategy of " Talents to revitalize the enterprise ", adhering to the talent concept of "Taking the Striver as the Core, Helping Employees Success", and implementing the "Three Highs" policy to attract outstanding domestic and foreign talents.
"High-quality", through the introduction and training of talents, to ensure that the talent team has the correct values and possesses high-level knowledge, skills and experience

"High standards", high standards for goals, high standards for evaluation, high standards for speed, and high standards for quality

"High remuneration", through remuneration, benefits and incentive mechanisms, to provide high returns for strivers and high-value contributors
The Dream of Net Zero
Green dream, zero-carbon future Sany Renewable Energy is committed to "promoting the efficient use of clean energy ", protecting the lucid waters and lush mountains with clean energy, and building a "Zero Carbon Dream" with green man ufacture .
"Peak carbon dioxide emission and carbon neutrality" is leading a broad energy revolution and industrial transformation in China, and an energy and power system with renewable energy as the main body will be established.
The transformation of renewable energy and the "carbon neutrality" reform are reshaping the new pattern of global energy and industry. Sany Renewable Energy will unswervingly develop clean energy, actively contribute to the realization of the "dual carbon" goal, and contribute its wisdom and strength to a zero-carbon future!