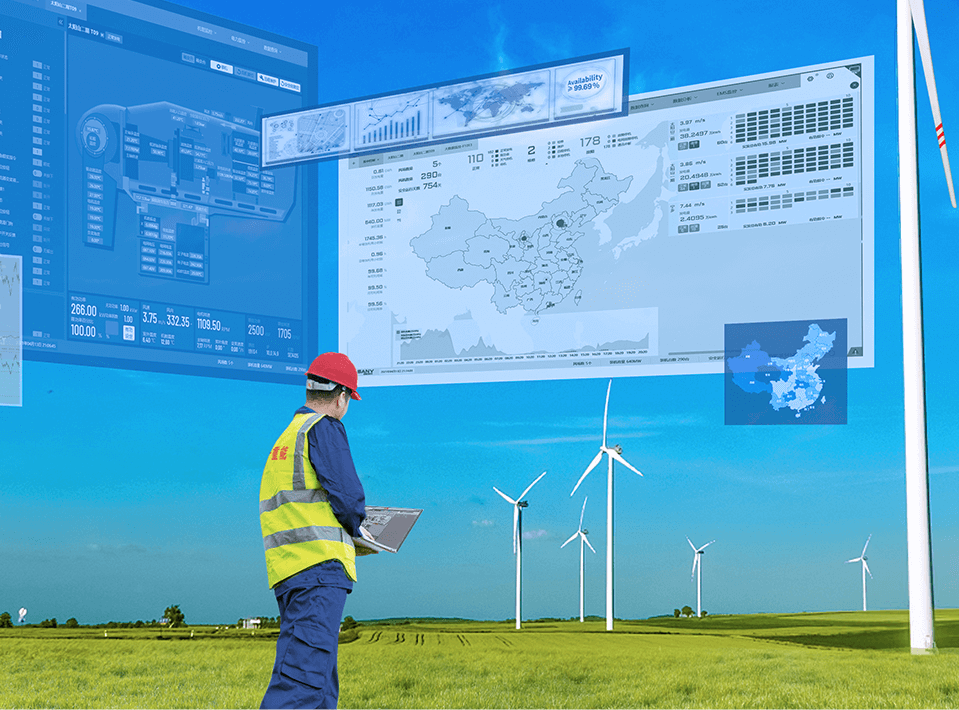 Sany Renewable Energy is able to use the platform to enhance resource efficiency, lead the industry ecology with smart operation and maintenance, create a new service ecological platform, and provide customers with overall solutions for smart operation and maintenance.
Sany Renewable Energy improves resource efficiency with platform, leads the industry ecology with intelligent operation and maintenance, and creates a new service ecological platform. Through the whole process control of "just-in-time production, professional logistics, efficient installation, 240hs pre-acceptance and on-site warranty and operation and maintenance", zero-defect delivery is achieved.

Design and manufacture smart wind turbines that can "perceive, think,self-control, and self diagonse" , implement online monitoring and fault prediction of wind turbines, and build wisdom wind farms with "less people on duty or unattended" .

Establish a "Beijing-Region-Wind Farm" three-level spare parts warehousing system; strengthen the planning management system; strengthen logistics monitoring, and make responsibility traceable.

Relying on intelligence, and big data analysis to achieve wisdom wind farm construction, smart operation and maintenance, and provide customers with end-to-end perfect service.
Solution
Turbine technology upgrading and retrofit
Technology upgrading and retrofit

Aiming to improve the reliability of wind turbines and elevate energy production, Sany Renewable Energy provides services including replacement of large components, upgrade and retrofit of con trol system, converter, and pitch, and solutions will be provided by professional technical team.

Localization

According to the requirements of local power grids, replacement solution of complete equipment of domestic software and hardware is provided to achieve localized monitoring systems and energy management platforms. At present, our company has completed the replacement of com plete set of localized systems for multiple wind farms, with stable equipment operation and excel lent software functions, which have been unanimously recognized by many customers.
Wind turbine operation and maintenance and safety testing
Wind farm operation and maintenance

Sany Renewable Energy can perform operation and maintenance work for manufacturers. Relying on the company's strong production R&D system, and complete supplier system, all the pain points during the customers' operation can be addressed, a favorable ecological operation and maintenance environment on site can be realized.

Turbine Performance Test

Develop effective test solutions for the key items concerned by the customers and the core components of wind turbines during the operation. These solutions can realize detection of functions for aerodynamic balance, gearbox, super capacitor, and safety protection, and escort long term and safe operation of the wind turbine.
There are 1 central warehouse, 100 spare parts warehouses, 500 professional service engineers, 80 million conventional operation and maintenance spare parts, service outlets locate in various provinces and cities across the country, providing 2000 kinds of conventional spare parts for wind turbines, which are supplied by the original manufacturing factories with ultra-low profit and warranty services of repair, replacement and refund.

The intelligent monitoring system can realize 7*24 monitoring of the entire wind farm. Relying on big data and intelligent functions, it can perform online real-time analysis and prediction of operational data. Through the screening of data, non-excellent turbines can be identified and improved. Finally, the circulation system from monitoring, analysis, prediction and promotion can be realized to continuously improve the operation of the wind turbines.

Sany Renewable Energy has 3 blade production lighthouse factories in Zhangjiakou, Shaoshan, and Tongyu, 6 fixed maintenance points across the country, 50 professional motor blade maintenance engineers, 10 sets of professional main-tenance tools, 24-hour response, providing "one-stop" service in blade inspec-tion, diagnosis, and repair